Carports and Shade Structures
Metal Building Source carports are not only are the right way to cover your vehicle, but our carport kits make great RV covers, boat covers, heavy equipment storage, recreation canopies, utility carports and more! 
Not limited to residential use, we manufacture overed parking systems for industrial, office, and apartment use. By statistics, protection for tenant vehicles dramatically raises property value, marketability and tenant retention.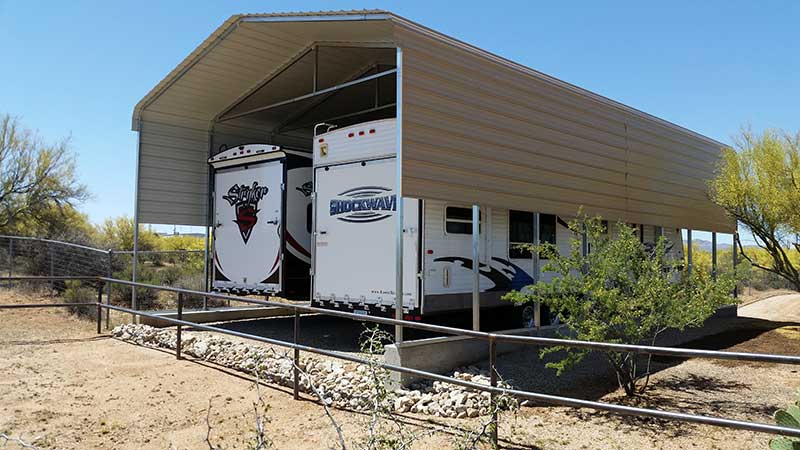 designed for the diy'er
Whether you're a big company or a private citizen adding to a residential property, our systems are DIY-intended. That means most sizes in our carport kits won't need heavy machinery like cranes and forklifts. 
So, with a Metal Building Source carport kit, you can expect:
Detailed, well-illustrated instructions with every kit.
Delivery of the kit right to your jobsite in well-marked, organized bundles.
Parts designed to minimize premature wear and tear during the installation.
Tasks require easy-to-find, standard tools.
Seriously Strong Frame System
We are so confident in our structures that our frame systems have a 20 YEAR WARRANTY and the exterior panels, depending upon which panel you purchase, have a 20 to 40 year warranty against fading, chalking, or peeling.
Engineered Easy to Install
Most of our carport kits are designed to be installed by 2-3 people with basic DIY skills. No forklifts, only basic tools required. Tubular steel frame system is manufactured to be slip-fit. All parts are cleanly manfactured to be a perfect fit.
Made Your Way
Our carport and shade cover systems are available in thousands of style, size, and color combos. Buildings are 4′ or 5′ on-center depending upon your local requirements. Large commerical full and semi-cantilver systems are available.
Residential and Light Commercial
Carports & RV Covers
While durable enough for commercial applications, most residential customers opt for our original galvanized metal carport kits. They are vailable in a wide variety of colors and come in many standard widths.
Carport widths from 10′ wide to 30′ wide
Eave height of 7.5′ high to 12.5′ high
Our carports can be as long/deep as you want.
Large Scale Commercial Use
Commercial Covered Parking
Fully Engineered and American made – our steel structures have held up to the extreme conditions of Hurricanes with sustained winds of over 100 MPH. Systems can be engineered for 140+MPH winds, and most any special requirement you may have.
We manufacture full cantilever systems, semi-cantilever systems, post and purlin systems (popular with RV storage facilities), and T-frame systems.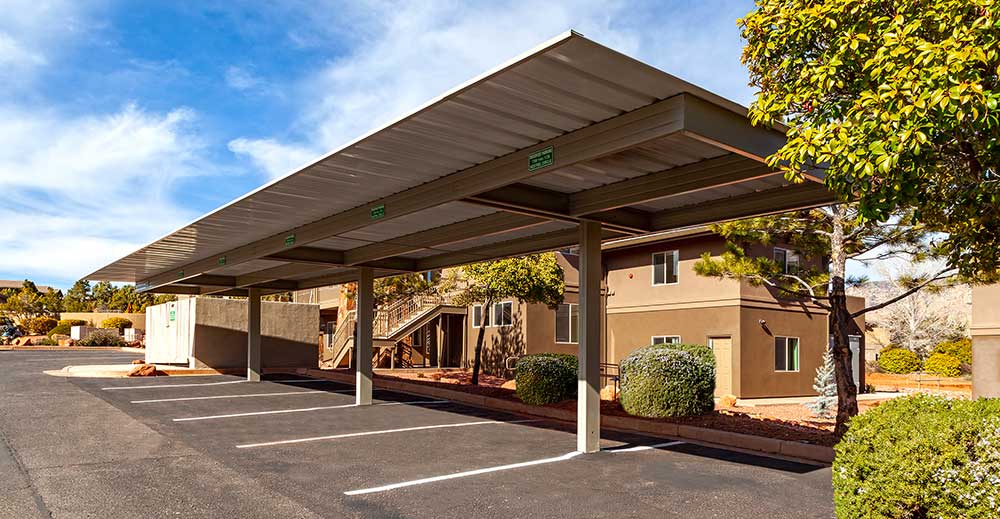 ---
Let's Build Something
Contact us today to discuss your needs and receive easy, no-pressure pricing.
Toll Free Phone:
(888) 729-5330
Metal Building Source, Inc.
10645 N. Tatum Blvd.
Ste. 200-182
Phoenix, Arizona 85028